Canon EOS 5: Photos and Specification
The Canon EOS 5 is an excellent camera, so I thought I would present you with some images of my own one! I've had this body and the Canon EF 28-105mm f/3.5-4.5 (shown below) since the summer of 1996. The following pictures were take with a Canon EOS 300D in daylight. The background has been tweaked to slightly in Adobe Photoshop Elements.
Click on a frame to see the photo.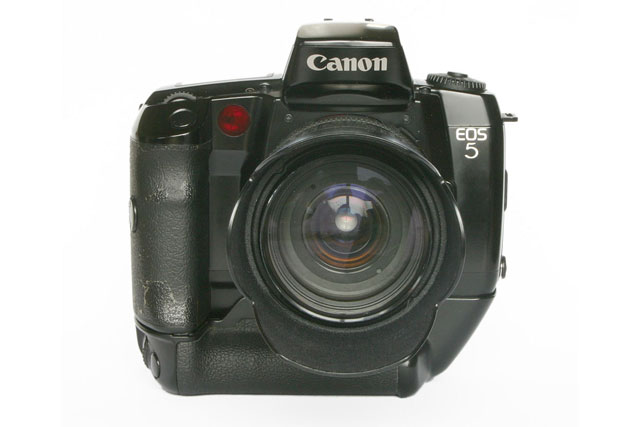 EOS 5 / EOS A2 / EOS A2E
The EOS 5 is the world's first 35mm SLR camera with Eye Controlled Focus. The camera has five focusing points (||+||). You just look at the desired focusing point to select it and the camera autofocuses at that point. It was a dream feature. A focusing point can also be selected manually.
Other outstanding features include silent operation, 16-zone evaluative metering linked to the five focusing points, 3.5% spot metering at center, centerweighted averaging metering, shutter speed-priority AE, aperture-priority AE, Intelligent program AE, depth-of-field AE, Programmed Image Control modes, and metered manual.
Specifications
Type
35mm focal-plane shutter multi-mode AF SLR camera
Picture Size
24x36 mm
Normal Lens
EF 28-105mm f/3.5-4.5 USM, others
Lens Mount
EF mount
AF System
TTL phase detection. AF modes: One-Shot AF/AI Servo AF (automatic switchover). Multi-BASIS for the AF sensor. Five focusing points selectable by Eye Control, dial operation, or by the camera. AF operating range at ISO 100: EV 0 - 18.
Shutter
Vertical-travel, focal-plane electronic shutter. 30 sec. - 1/8000 sec., B. X-sync at 1/60 - 1/200 sec. (German socket and hot shoe). Built-in electronic self-timer (with beeper and lamp).
Viewfinder
Fixed eye-level pentaprism. 0.73x magnification, 92% vertical coverage and 94% horizontal coverage.
Viewfinder
Information
Five focusing points (superimposed in red when selected by Eye Control), depth-of-field preview mark, Eye Control icon, flash ready, AE lock, shutter speed, aperture setting, calibration, depth-of-field AE, exposure display, exposure compensation amount, autobracketing amount, red-eye reduction lamp-ON indicator, and other indications.
Metering &
Exposure Control
Composite SPC for TTL full-aperture metering (16-zone evaluative, centerweighted averaging, 3.5% spot metering at center) with shutter speed-priority AE, aperture-priority AE, depth-of-field AE, Intelligent program AE, four program AE modes, and metered manual. Exposure compensation range of ±2 EV (in 1/2-stop increments) in AE modes, bulb, and manual. AE lock enabled. Metering range at ISO 100 and f/1.4: EV 0 - 20. Film speed range: ISO 6 to 6400. Maximum 9 multiple exposures. 16 Custom Functions.
External LCD
Eye Control icon, calibration display, shutter speed, aperture setting, film speed, Custom Function No., battery check, film advance, film status, metering mode, flasg exposure compensation, exposure display, exposure compensation amount, red-eye reduction lamp-ON indicator, AF mode, and other indications.
Built-in Flash
Located on pentaprism hump. Manual/auto retractable head. TTL zoom autoflash control (fires automatically in backlight and low-light conditions in the Full Auto and Programmed Image Control modes) with off-the-film metering. Red-eye reduction lamp provided. Second-curtain sync enabled. Guide No. 13 - 17 (at ISO 100 in m). Auto zoom flash head for 28mm, 50mm, and 80mm focal lengths.
Quick Control Dial
Dial on camera back sets exposure compensation amount in AE modes, the aperture in the manual mode, and the flash exposure compensation amount for the built-in flash.
Power Source
One 6 V 2CR5 lithium battery
Film Loading &
Advance
Align film leader at mark, then close the camera back for auto loading. Automatic film advance with built-in motor. Normal film advance of approx. 3 fps. High-speed film advance of approx. 5 fps. Single-frame advance provided.
Film Rewind
Fully automatic with built-in motor. Midroll rewind enabled.
Dimensions &
Weight
154 x 121 x 74 mm, 675 g